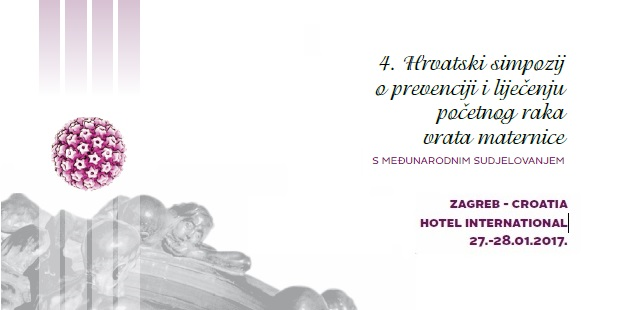 To mark the European Cervical Cancer Prevention Week, Croatian Institute of Public Health, The City of Zagreb – Zagreb Office for Health, Department of Gynaecology and Obstetrics of the Sisters of Mercy University Hospital, dr. Andrija Štampar Teaching Institute of Public Health, Croatian Society for Colposcopy and Cervical Pathology, Croatian Society for Gynaecological Endoscopy and the Croatian League against Cancer are organizing the 4th Croatian Symposium on the prevention and treatment of initial cervical cancer with international participation on January 27-28, 2017.
Cilj nam je i na ovom simpoziju kao i na prethodna tri okupiti stručnjake brojnih medicinskih specijalnosti koje se multidisciplinarno bave prevencijom i liječenjem početnog raka vrata maternice kako bismo zajedničkim naporima pripomogli u smanjivanju kako pojavnosti tako i smrtnosti od ovoga sijela raka. I upravo stoga jedna od glavnih tema ovog simpozija bit će posvećena načinima poboljšanja primarne i sekundarne onkološke zaštite žena u prevenciji raka vrata maternice.
As in the previous three symposia, the goal is to bring together a number of medical experts of different specialties with a multidisciplinary approach to prevention and treatment of initial cervical cancer in order to join efforts and contribute to reducing the incidence and mortality from this cancer site. One of the main topics of this year's symposium will therefore be the ways to improve primary and secondary oncology care of women in the cervical cancer prevention.
The Symposium will begin at 10 a.m. on January 27, 2017 in Hotel International, Zagreb. Registration desk will be open from 8 a.m.
All healthcare providers involved in the prevention and early cervical cancer treatment are invited to attend the sympoisum.
The Symposium attendants will be awarded credits by the Croatian Medical Chamber.
Download the programme.
Tags