DMFT Index
The spread of dental caries among the population is measured based on the number of teeth with caries, teeth with fillings and the number of extracted teeth with the indicator called DMFT Index (decayed, missing, filled). In accordance with the recommendations of the World Health Organization, the state of oral health in children is estimated via discovering caries, while in adults, together with caries, we also estimate periodontics. From 1938, DMFT Index is relevant in monitoring the distribution of dental caries, which the World Health Organization (WHO) uses in the assessment of oral health, and it indicates the intensity or frequency of dental caries. Croatia, due to a high DMFT Index (4.18), is far from the goal set by the WHO for 2020 as a part of Health21 Policy for Europe (DMFT Index in 12-year-olds on average no more than 1.5 and at least 80% of 6-year-olds without caries).
More about DMFT Index in Croatia and Europe can be found in the article Presentation of DMFT Index in Croatia and Europe, published in the journal Acta Stomatologica 2015; 49 (4): 275- 284.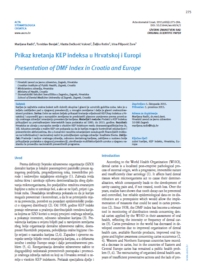 Next – more about the dental passport.
Tags