At the 11th session of the Parliamentary Committee for Health and Social Policy held on March 8, 2017, dedicated to the topic of vaccination, following the recent media coverage of vaccination, experts from the Croatian Institute of Public Health presented the epidemiological aspects of vaccination and the attitude of the medical profession about vaccination.
While some vaccinations only protect the vaccinated persons, such as vaccination against tetanus, other vaccinations can prevent the circulation of the disease in the population, thereby protecting also the unvaccinated persons, such as vaccination against polio or measles.
Systematic vaccination of children around the world and in Croatia prevented numerous deaths, hospitalizations and permanent disability. Smallpox were eradicated and we are a getting closer to global eradication of polio, while diseases such as neonatal tetanus, tuberculosis meningitis, measles and rubella are practically eliminated.
Relevant medical profession worldwide and in Croatia agrees that:
• vaccination is one of the most effective medical measures
• benefits of vaccination greatly outweigh the risks of vaccination
• the vaccine reduces the incidence of infectious diseases and death from infectious diseases.
Unfortunately, misinformation about vaccination are also present in the population that cause unwarranted suspicion and fear of vaccination and due to this, a certain percentage of the population is not able to assess who to trust.
In Croatia, vaccination according to Immunisation Schedule is compulsory for all children who do not have medical contraindications to vaccination. Three years ago, the initiative to review the constitutionality of the Law on the Protection of the Population from Infectious Diseases was put forward, but the Constitutional Court rejected it because no elements were found in the Law that would be contrary to the Constitution.
In the last twenty years, the vaccination coverage rates gradually grew for all vaccines from the Immunisation Schedule and reached more than 95% for all vaccinations from the Schedule, but after 2010, a slight decline in vaccination was noticed, which can be seen in the graphics below.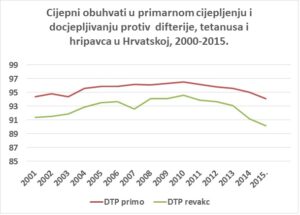 Immunization coverage in primary immunisation and revaccination against diphtheria, tetanus and whooping cough in Croatia, 2000-2015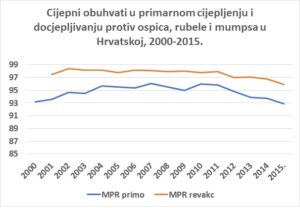 Immunization Coverage in primary immunisation and revaccination against measles, rubella and mumps in Croatia, 2000-2015.
Safety of the vaccine used in Croatia is not in question due to strict criteria for the vaccine registration controlled by an independent national regulatory authority HALMED that are applied on each batch of vaccines before putting it on the market.
Tags