---
Here you can find warnings to heatwaves that may have an effect on people's health.
---
Warnings are issued by the Meteorological and Hydrological Service.
Ponedjeljak
15.10.2018.
Utorak
16.10.2018.
Srijeda
17.10.2018.
Četvrtak
18.10.2018.
Petak
19.10.2018.
Osijek
Zagreb
Karlovac
Gospic
Knin
Rijeka
Split
Dubrovnik
nema opasnosti
umjerena opasnost
velika opasnost
vrlo velika opasnost
Danger from heat: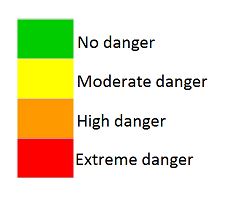 If the colour of your climate area is YELLOW, AMBER or RED, follow the instructions for staying safe in hot weather.
---
Additional meteorological information can be found here.
Tags